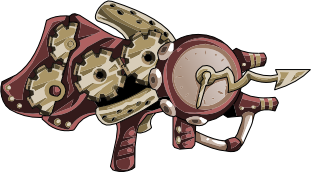 The Accelerator is a non-elemental gun available for Lance in Epic Battle Fantasy 4. It is exclusive to the Steam release of the game and the Premium Pack.
Description
The Accelerator is a large brown and red gun with a clock motif.
Befitting its name and appearance, the Accelerator can randomly cast Speed Up between turns. It can also randomly give Lance the Charged status, allowing him to use his Hyper Beam skill on his next turn. The Accelerator's stat and elemental resistance bonus is almost identical to the Ultra Zapper, but without the MP bonus.
Epic Battle Fantasy 4
Exclusive to the Premium Pack, it is found on Battle Mountain, in a chest on the northern side of the block puzzle one screen east of Rainbow Rafflesia.
Accelerator
May charge up Hyper Beam at the start of each turn. Randomly casts Speed Up between turns.

Statistics
Stat Bonus
Resistance
LV1
LV2
LV3
LV4
LV5
LV1
LV2
LV3
LV4
LV5
LV1
LV2
LV3
LV4
LV5
-
-
-
-
-
-
-
-
-
-
10%
20%
30%
40%
50%
10%
20%
30%
45%
60%
-
-
-
-
-
10%
20%
30%
40%
50%
10%
20%
30%
45%
60%
-
-
-
-
-
10%
20%
30%
40%
50%
-
-
-
-
-
-
-
-
-
-
Element
----

Forging Information
Level
Requirements
2
x 2
3
x 2
x 5
4
x 4
x 10
5
x 1
x 10