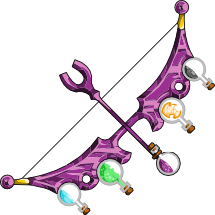 The Alchemist's Bow is a non-elemental bow available for Anna in Epic Battle Fantasy 4.
Description
The Alchemist's Bow is primarily made of shiny purple metal, with small gold sections where the string attaches to the bow. It has four curved recesses along its leading edge, each carrying a bottle of unknown liquid (presumably chemicals for its special effect). The arrows are made of the same purple metal as the bow itself, with a horseshoe-shaped "feather" and a bottle of purple liquid tied to the head of the shaft.
The Alchemist's Bow is an unique weapon in that it can inflict any status ailment in the game on enemies hit by Anna's weapon-elemental attacks, including Death and Doom. It also provides a decent MP bonus and a high resistance to Syphon (becoming an immunity at max level). However, its offensive capability is rather lackluster, as it only gives Anna a weak boost in Magic Attack.
Epic Battle Fantasy 4
The Alchemist's Bow is given to the player as a reward for completing a quest in Greenwood Village for Alphonse.
Alchemist's Bow
Inflicts random status effects on targets.
Statistics
Stat Bonus
Resistance
LV1
LV2
LV3
LV4
LV5
LV1
LV2
LV3
LV4
LV5
LV1
LV2
LV3
LV4
LV5
--
--
--
--
--
5%
10%
15%
20%
25%
20%
40%
60%
80%
100%
--
--
--
--
--
--
--
--
--
--
--
--
--
--
--
--
--
5%
10%
15%
20%
--
--
--
--
--
--
--
--
--
--
--
--
--
--
--
--
--
--
--
--
--
Element
----
Spells & Statuses
Power
Chance Modifier
Attack Status
Auto Skill
--
--
60%
70%
80%
90%
100%
Bonus Skill
--
--
--
--
--
--
--
Auto Status
--
--
Forging Information
Lvl
Requirements
Lvl
Requirements
2
x 3
x 3
--
3
x 2
x 1
--
4
x 3
x 3
x 3
5
x 10
x 12
x 6