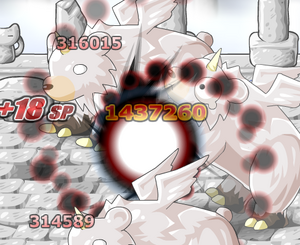 "In case you were wondering, my guns are powered by antimatter-catalyzed nuclear pulses!"
―Lance, Epic Battle Fantasy 4

Antimatter is an expert Dark-elemental skill available for Lance in Epic Battle Fantasy 3 and 4.
Description
When Antimatter is used, Lance fires a blast of Dark-based magic from his equipped gun, which explodes into a white orb with a red and black glow around the edges. The orb releases two spirals of small black orbs with red edges, damaging the entire enemy wave.
Antimatter deals high Dark-elemental damage to a targeted enemy, while all other foes receive 1/3 of the damage.
Enemies that can use this skill:
Epic Battle Fantasy 3
Antimatter has a chance to Dispel its targets. Shadow Blaster, despite its description saying it boosts Dark-elemental skills, doesn't actually boost Antimatter.
Antimatter
Expert dark magic. Damage centered on one foe, with the rest recieving 1/3. Chance of dispelling targets.
Target
Type
Element
Status Effect
Acc
Crit
RdF
Centered
75%
100%
10%
10%
Level
Power
Status Chance
Status Strength
MP
AP Cost
1
90
50%/20%
--
18
2000
2
120
50%/20%
--
24
4000
3
150
50%/20%
--
30
8000
Requirement(s)

Note: Number before/after the slash in the Status Chance section denotes chance for main and side targets, respectively.
Epic Battle Fantasy 4
Antimatter can no longer Dispel enemies.
Antimatter
Expert dark magic. Targets all foes, but damage is centered on one.
Target
Type
Element
Status Effect
Acc
Crit
RdF
Centered
75%
--
120%
10%
10%
Level
Power
Status Chance
Status Strength
MP
AP Cost
1
100
--
--
18
1500
2
140
--
--
25
3000
3
180
--
--
32
6000
Requirement(s)