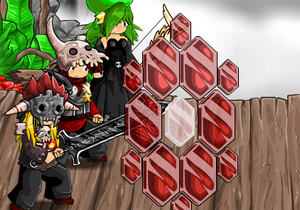 "Barrier is gonna be very useful later on, when bosses become strong enough to knock us out in one hit!"
―Whoever uses the skill, Epic Battle Fantasy 4

Barrier is a recurring skill in the Epic Battle Fantasy series.
Description
Barrier creates a shield of translucent red hexagons (blue in the first game) in front of the party, raising their Magic Defence for a while. This gives the party a boost in Magic Defence, which will decrease by 5% each turn.
Barrier is part of Natalie's WMagic skill set. It boosts the party's Magic Defence to +65% (countrary to its description), and costs 20 mana to use.
Barrier raises the party's Magic Defence to +65% (countrary to its description for once again) and costs 30 mana to use. It also has a new animation.
Once again, Barrier is one of Natalie's WMagic skills. However, in accordance with the new RPG mechanics, it must be unlocked, learned, and upgraded with AP.
Barrier
Buffs the party's magic defence.
Target
Type
Element
Status Effect
Acc
Crit
RdF
Allies
--
----
--
--
--
Level
Power
Status Chance
Status Strength
MP
AP Cost
1
--
--
20%
5
200
2
--
--
35%
10
500
3
--
--
50%
15
1500
4
--
--
60%
20
3000
5
--
--
70%
25
6000
Requirement(s)

Note: The in-game Power numbers are merely used to visualize Magic Defence buff strength; this skill does not heal or damage the team in any way.
Barrier is now a Special Skill that either Natalie or Lance can learn. The animation also receives a slight change: The hexagons will always appear and disappear in a set order, instead of randomly.
Barrier
Buffs the magic defence of all allies.
Target
Type
Element
Status Effect
Acc
Crit
RdF
Allies
--
----
--
--
--
Level
Power
Status Chance
Status Strength
MP
AP Cost
1
--
--
30%
5
200
2
--
--
40%
10
500
3
--
--
50%
15
1500
4
--
--
60%
20
3000
5
--
--
70%
25
6000
Requirement(s)