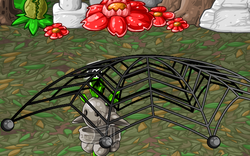 Bind is a debuffing skill available for Lance in Epic Battle Fantasy 3 and a special skill for all Matt, Lance, and Anna in Epic Battle Fantasy 4.
Description
When cast, Bind drops a heavy net on the enemy team, reducing the Evade of all enemies. Although it does not deal any damage by itself, Bind will make it easier for other skills to successfully hit their targets, which may prove useful when dealing with elusive foes.
In EBF4, Defender can also use Bind.
Epic Battle Fantasy 3
Bind
Lowers all foes' evade.
Target
Type
Element
Status Effect
Acc
Crit
RdF
All
----
300%
10%
10%
Level
Power
Status Chance
Status Strength
MP
AP Cost
1
10
100%
30%
10
500
2
13.(3)
100%
40%
15
1500
3
16.(6)
100%
50%
20
5000
Requirement(s)
(all)
Epic Battle Fantasy 4
Bind became a Special Skill available to by Matt, Lance, and Anna, instead of being exclusive to Lance. Ninja Skirt may randomly cast Bind between turns.
Bind
Debuffs all foes' evade.
Target
Type
Element
Status Effect
Acc
Crit
RdF
All
--
----
999%
--
--
Level
Power
Status Chance
Status Strength
MP
AP Cost
1
--
80%
20%
10
500
2
--
90%
30%
16
1200
3
--
100%
40%
22
3000