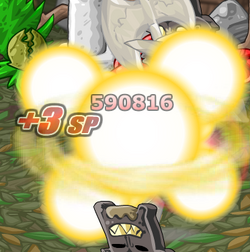 Blast is an advanced Bomb-elemental special skill available for Natalie and Lance in Epic Battle Fantasy 4.
Description
When cast, the skill engulfs the target in a small explosion, dealing moderate Bomb elemental damage to the target and having a small chance to Stagger them.
Armored Oak, Drill Bot and Earth Elemental can also use Blast.
Epic Battle Fantasy 4
Blast
Advanced bomb magic. May stagger targets.
Target
Type
Element
Status Effect
Acc
Crit
RdF
Single
100%
100%
10%
10%
Level
Power
Status Chance
Status Strength
MP
AP Cost
1
40
20%
--
5
70
2
60
25%
--
8
150
3
90
35%
--
12
400
4
120
40%
--
16
900