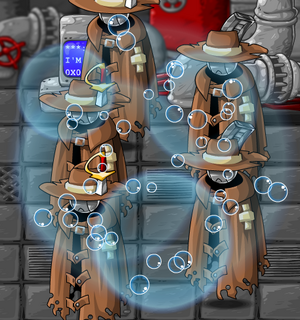 Bubble Blast is a Water-elemental special skill available for Natalie and Lance in Epic Battle Fantasy 4.
Description
When cast, numerous blue pulses appear, spraying bubbles and hitting all enemies, potentially Wetting or debuffing Attack.
Blue Jelly, Rainbow Rafflesia and River Squid can also use Bubble Blast.
Epic Battle Fantasy 4
The game starts with the skill already unlocked.
Bubble Blast
Targets all foes. May wet targets. May debuff targets' attack.
Target
Type
Element
Status Effect
Acc
Crit
RdF
All
100%


100%
10%
10%
Level
Power
Status Chance
Status Strength
MP
AP Cost
1
40
40%
30%
1x
20%
14
1200
2
55
50%
40%
1x
25%
22
2500
3
70
60%
50%
1x
30%
30
5000
Requirement(s)