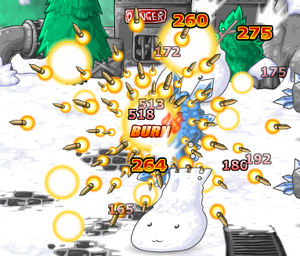 "I'd like to see them dodge all that!"
―Lance, Epic Battle Fantasy 4

Bullet Hell is one of Lance's recurring skills in the Epic Battle Fantasy series.
Description
When cast, Lance fires a projectile from his gun towards the target. The projectile explodes into a fiery shrapnel, dealing Fire damage to the main target and weaker splash damage to the surrounding enemies.
While Bullet Hell is considered the stronger variant of Flame Shot and Flame Burst, the latter targets all foes equally. Bullet Hell lacks the ability to target all foes directly as it focuses the attack on a certain enemy, which keeps Flame Burst as an option.
In EBF4, Dark Lance, Defender and Praetorian can also use Bullet Hell.
Bullet Hell
Expert fire magic. Damage centered on one foe, with the rest receiving 1/3.
Target
Type
Element
Status Effect
Acc
Crit
RdF
Centered
75%
--
110%
10%
10%
Level
Power
Status Chance
Status Strength
MP
AP Cost
1
90/5
--
--
20
1500
2
120/5
--
--
25
3000
3
150/5
--
--
30
6000
Requirement(s)

Bullet Hell now has a chance to burn enemies.
Bullet Hell
Expert fire magic. Targets all foes, but damage centered on one. May burn targets.
Target
Type
Element
Status Effect
Acc
Crit
RdF
Centered
75%
100%
10%
10%
Level
Power
Status Chance
Status Strength
MP
AP Cost
1
100/4
7%
1x
20
1500
2
135/4
10%
1x
26
3000
3
170/4
12%
1x
32
6000
Requirement(s)