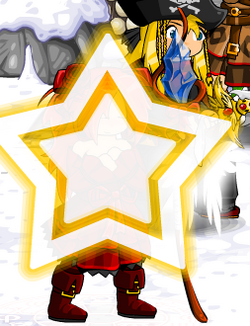 Charm (named Bless in the third game) is a stat-buffing skill available for Natalie in Epic Battle Fantasy 3 and 4.
Description
When Charm is cast, a golden star appears over an ally, buffing the target's Magic Attack.
Epic Battle Fantasy 3
Bless
Buffs an ally's magic attack.
Target
Type
Element
Status Effect
Acc
Crit
RdF
Ally
--
----
--
--
--
Level
Power
Status Chance
Status Strength
MP
AP Cost
1
--
--
40%
5
100
2
--
--
55%
10
500
3
--
--
70%
15
2000
Note: The in-game Power numbers are merely used to visualize Magic Attack buff strength; this skill does not heal or damage the team in any way.
Epic Battle Fantasy 4
The skill has been renamed Charm, likely to avoid confusion with the newly added status effect of the same name. Its properties remained unchanged.
Charm
Buffs an ally's magic attack.
Target
Type
Element
Status Effect
Acc
Crit
RdF
Ally
--
----
--
--
--
Level
Power
Status Chance
Status Strength
MP
AP Cost
1
--
--
40%
5
100
2
--
--
55%
10
300
3
--
--
70%
15
1000