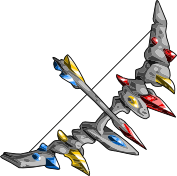 The Crystal Bow is a non-elemental bow available for Anna in Epic Battle Fantasy 4. It is exclusive to the Steam release of the game and the Premium Pack.
Description
The Crystal Bow is based on the Crystal Golem, being made of grey stone and decorated with blue, red, and yellow crystals. The arrows have blue and yellow crystal "feathers" and a pointed red crystal head.
Epic Battle Fantasy 4
Found on the Battle Mountain, specifically in a chest at the top of the Diamond Golem screen, accessible after beating the nine-wave foe rush with foes from Crystal Caverns. A Battery is required to get this far, used to open a door a few screens ago.
Crystal Bow
A tri-elemental weapon. May cast Frost Arrow with certain skills. Randomly casts Fire Crystals between turns. Counter attacks with Spark Arrow.

Statistics
Stat Bonus
Resistance
LV1
LV2
LV3
LV4
LV5
LV1
LV2
LV3
LV4
LV5
LV1
LV2
LV3
LV4
LV5
-
-
-
-
-
-
-
-
-
-
10%
20%
30%
40%
50%
20%
30%
40%
55%
75%
-
-
-
-
-
10%
20%
30%
40%
50%
20%
30%
40%
55%
75%
-
-
-
-
-
10%
20%
30%
40%
50%
-
-
-
-
-
-
-
-
-
-
Element
----

Forging Information
Level
Requirements
2
x 1
3
x 3
4
x 12
x 6
5
x 12
x 4
x 4