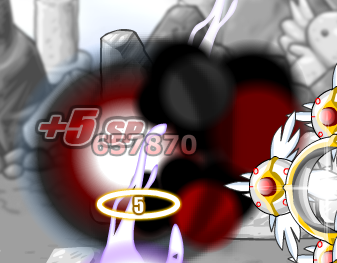 Dark Shot (also known as Darkblast) is a basic Dark-elemental skill available for Lance in Epic Battle Fantasy 3 and 4.
Description
When cast, Lance fires a blast of dark energy at an enemy, dealing moderate magical damage.
Dark Shot is later on replaced by its expert variant - Antimatter, which is more powerful and also deals splash damage to other enemies.
Equipping Dark-based weapons such as the Shadow Blaster or The Phantom will boost the power of Dark Shot. EBF3 is an exception, where equipping Shadow Blaster doesn't actually boost the skill, contrary to weapon's description.
In EBF4, Black Clay and Razor Claw can also use Dark Shot.
Epic Battle Fantasy 3
Darkblast
Basic dark magic.
Target
Type
Element
Status Effect
Acc
Crit
RdF
Single
75%
--
100%
10%
10%
Level
Power
Status Chance
Status Strength
MP
AP Cost
1
50
--
--
10
300
2
75
--
--
13
600
3
100
--
--
16
1200
Requirement(s)
(all)
Epic Battle Fantasy 4
Dark Shot
Basic dark magic.
Target
Type
Element
Status Effect
Acc
Crit
RdF
Single
75%
--
100%
10%
10%
Level
Power
Status Chance
Status Strength
MP
AP Cost
1
50
--
--
10
200
2
75
--
--
13
400
3
100
--
--
16
800
Requirement(s)
(all)