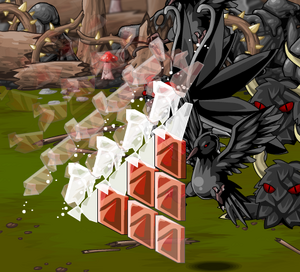 "That's their defence crippled. Have at them!"
―Lance, Epic Battle Fantasy 4

Debilitate is a debuffing skill available for Lance in Epic Battle Fantasy 3, and for Natalie and Lance in Epic Battle Fantasy 4.
Description
Upon casting, Debilitate reveals a red protective barrier appears in front of the enemy team, then shatters it.
Debilitate has a chance to debuff the Defence of all foes. Although it does not deal any damage by itself, Debilitate will enable physical skills to deal much greater damage to the afflicted targets.
Epic Battle Fantasy 3
Debilitate is Lance's unique skill.
Debilitate
Lowers all foes' defence.
Target
Type
Element
Status Effect
Acc
Crit
RdF
All
--
----
--
--
--
Level
Power
Status Chance
Status Strength
MP
AP Cost
1
--
--
15%
10
100
2
--
--
25%
20
500
3
--
--
35%
30
3000
Requirement(s)
(all)
Note: The in-game Power numbers are merely used to visualize Defence debuff strength; this skill does not heal or damage the enemies in any way.
Epic Battle Fantasy 4
Debilitate became a Special Skill available for Natalie and Lance, instead of being exclusive to Lance.
Debilitate
Debuffs all foes' defence.
Target
Type
Element
Status Effect
Acc
Crit
RdF
All
--
----
100%
--
--
Level
Power
Status Chance
Status Strength
MP
AP Cost
1
--
80%
20%
10
300
2
--
85%
25%
15
700
3
--
90%
30%
20
1500
4
--
95%
35%
25
3000