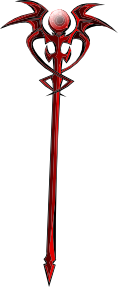 The Demon Tail is a non-elemental staff available for Natalie in Epic Battle Fantasy 3.
Description
The Demon Tail is a red staff with an ornate head resembling an orb surrounded by two bat-like wings.
This crimson staff's main trait is the ability to restore Natalie's MP whenever she uses a Normal Attack. The amount of Mana replenished is equal to the damage dealt. Demon Tail increases Natalie's Attack, strengthening her Normal Attack, thus enabling to restore more MP with each strike. However this ability is offset by staff's very low bonus to Magic Attack (it actually decreases Natalie's Magic Attack until forged), making it more designed for support, rather than offensive. Demon Tail also protects Natalie against Syphon, which is arguably the most debilitating status effect for her as it prevents Natalie from using the magical abilities that she relies upon. Additionally it may inflict Syphon on foes via Unleash.
Epic Battle Fantasy 3
Found in The Town, in an abandoned house next to the graveyard, the Old Key is required to unlock the door.
Demon Tail
Drains MP from foes.
Unleash: Syphons the target.

Statistics
Stat Bonus
Resistance
LV1
LV2
LV3
LV4
LV5
LV1
LV2
LV3
LV4
LV5
LV1
LV2
LV3
LV4
LV5
-
-
-
-
-
5%
10%
15%
20%
25%
20%
40%
60%
80%
100%
-
10%
20%
30%
40%
-
-
-
-
-
–
-
-
-
-
-
–20%
–10%
-
10%
20%
-
-
-
-
-
–
-
-
-
-
-
-
-
-
-
-
-
-
-
-
-
Element
----

Forging Information
Level
Requirements
2
x 1
3
x 2
4
x 5
x 1
x 1
5
x 6
x 7