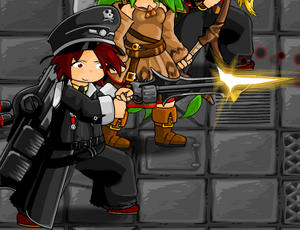 "I'll stab you... with bullets."
―Lance, Epic Battle Fantasy 4

Double Shot is a weapon-elemental skill available for Lance in Epic Battle Fantasy 3 and 4.
Description
A brief animation shows Lance load 2 bullets into his currently equipped weapon, then firing both shots into a targeted Foe.
Dark Lance can also use Double Shot.
Epic Battle Fantasy 3
Double Shot is one of Lance's default skills.
Double Shot
Standard attack that hits twice. Useful for getting twice the special effect from a weapon.
Target
Type
Element
Status Effect
Acc
Crit
RdF
Single
100%
10%
10%
Level
Power
Status Chance
Status Strength
MP
AP Cost
1
40/2
(100%)
(100%)
6
N/A
2
60/2
(100%)
(100%)
10
150
3
100/2
(100%)
(100%)
14
500
Note: Has 70% chance to trigger bonus skill at 80% of host skill's base power.
Epic Battle Fantasy 4
Lance will already have the skill on a second level when he joins the party in Crystal Caverns. Since the Battle Mountain update, Double Shot (as well as Unload) will target another enemy in the wave if the initial target is eliminated.
Double Shot
Element and effects depend on current weapon. Weapon effects are stronger than usual. Hits twice.
Target
Type
Element
Status Effect
Acc
Crit
RdF
Single
100%
10%
10%
Level
Power
Status Chance
Status Strength
MP
AP Cost
1
N/A
(85%)
(100%)
N/A
N/A
2
95/2
(85%)
(100%)
10
N/A
3
140/2
(85%)
(100%)
15
700
Note: Bonus skills have their trigger chance multiplied by 1.5