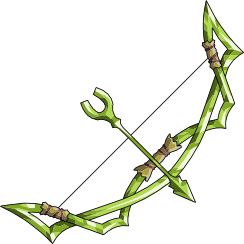 The Emerald Cyclone is a Wind-elemental bow available for Anna in Epic Battle Fantasy 4. It is exclusive to the full Steam release of the game and the Premium Pack.
Description
The Emerald Cyclone is an angular bow that wraps around itself at both ends. It is a bright emerald colour hence the name.
Epic Battle Fantasy 4
Found on the Battle Mountain after beating the eight-wave foe rush with foes from Lava Cave.
Emerald Cyclone
May dispel targets. Boosts the power of Wind skills. May cast Shockwave with certain skills. Counter attacks with Piercing Shot.

Statistics
Stat Bonus
Resistance
LV1
LV2
LV3
LV4
LV5
LV1
LV2
LV3
LV4
LV5
LV1
LV2
LV3
LV4
LV5
-
-
-
-
-
-
-
-
-
-
10%
20%
30%
40%
50%
10%
20%
30%
45%
60%
-
-
-
-
-
10%
20%
30%
40%
50%
10%
20%
30%
45%
60%
-
-
-
-
-
20%
40%
60%
80%
100%
-
-
-
-
-
-
5%
5%
10%
15%
Element
50%

Forging Information
Level
Requirements
2
x 1
3
x 6
4
x 2
x 4
5
x 12
x 6