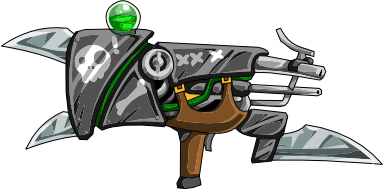 The Exterminator is a Poison-elemental gun available for Lance in Epic Battle Fantasy 4. It is exclusive to the Steam release of the game and the Premium Pack.
Description
(insert visual description here)
(insert properties description there)
Epic Battle Fantasy 4
Found on the Battle Mountain after beating Praetorian MKII.
Exterminator
May debuff targets' magic defence. Boosts the power of Poison skills. May cast Poison Cloud with certain skills. Randomly cast The Dead between turns.

Statistics
Stat Bonus
Resistance
LV1
LV2
LV3
LV4
LV5
LV1
LV2
LV3
LV4
LV5
LV1
LV2
LV3
LV4
LV5
-
-
-
-
-
-
-
-
-
-
10%
20%
30%
40%
50%
-
10%
20%
30%
40%
-
-
-
-
-
10%
20%
30%
40%
50%
10%
20%
30%
45%
60%
-
5%
5%
5%
10%
20%
40%
60%
80%
100%
-
-
-
-
-
-
5%
5%
5%
10%
Element
50%

Forging Information
Level
Requirements
2
x 5
3
x 2
x 2
4
x 10
x 5
x 2
5
x 10
x 1