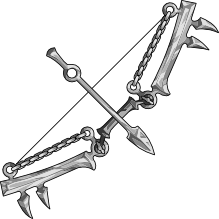 The Fenrir's Jaw is a Holy-elemental bow available for Anna in Epic Battle Fantasy 4.
Description
The Fenrir's Jaw is made of silver metal, with two large plates connected by a smaller, darker piece. The connection points appear to be hinged, and small chains are connected to the backs of the side plates via small metal rings. The front edges of the side plates bear two spikes at their outer tips - coupled with the hinged design, the bow looks oddly like an open bear trap/mouth.
The arrows of Fenrir's Jaw are silver and metallic, with a somewhat rounded head and a small ring near the tail.
(insert properties' description there)
Epic Battle Fantasy 4
The Fenrir's Jaw can be bought in the Whitefall Town Equipment Shop for 4,000 gold.
Fenrir's Jaw
Drains HP from targets with certain skills. Boosts the power of Holy skills. Counter attacks with Normal Attack.

Statistics
Stat Bonus
Resistance
LV1
LV2
LV3
LV4
LV5
LV1
LV2
LV3
LV4
LV5
LV1
LV2
LV3
LV4
LV5
-
5%
5%
10%
10%
-
-
-
-
-
20%
40%
60%
80%
100%
10%
20%
30%
40%
50%
-
-
-
-
-
–
-
-
-
-
-
-
10%
20%
30%
40%
-
-
-
-
-
–
-
-
-
-
-
-
5%
5%
10%
10%
-
5%
5%
10%
10%
Element
50%

Forging Information
Level
Requirements
2
x 2
3
x 6
x 2
4
x 5
x 10
5
x 20
x 20