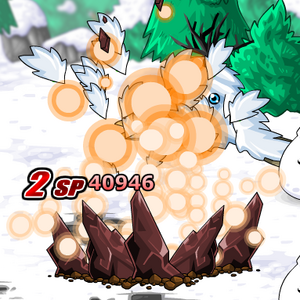 "Hey, if I defeat foes with fire, they'll already be cooked and ready for eating!"
―Matt, Epic Battle Fantasy 4

Fume is a Fire-elemental skill available for Matt in Epic Battle Fantasy 3 and 4.
Description
Fume is cast by Matt slamming his sword into the ground and causing a small burst of fire to appear beneath his target. Unlike its expert counterpart, Eruption, Fume cannot burn foes. Equipping Fire-elemental weapons such as the Magma Hammer will boost the power of Fume.
Enemies that can use this skill:
Epic Battle Fantasy 3
Fume
Advanced fire attack.
Target
Type
Element
Status Effect
Acc
Crit
RdF
Single
50%
--
110%
10%
20%
Level
Power
Status Chance
Status Strength
MP
AP Cost
1
40
--
--
7
100
2
55
--
--
9
200
3
70
--
--
12
400
Epic Battle Fantasy 4
Fume
Advanced fire attack.
Target
Type
Element
Status Effect
Acc
Crit
RdF
Single
50%
--
100%
10%
10%
Level
Power
Status Chance
Status Strength
MP
AP Cost
1
50
--
--
7
100
2
75
--
--
9
200
3
100
--
--
12
400