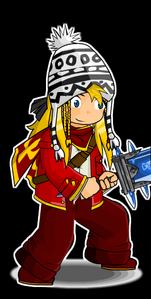 The Fuzzy Hat is a male hat found in Epic Battle Fantasy 3. It does not have any armor counterparts.
Description
It is a white wool cap with black designs on the sides and a small ball on top. It is resistant to Ice and Wind (the latter to a lesser degree), and weak to Fire.
Initially, the Fuzzy Hat only raises the wearer's Evade by a small amount. As it levels up, it begins boosting Defence and Magic Defence as well. At its highest levels, it even raises the wearer's MP and Magic Attack.
Epic Battle Fantasy 3
Fuzzy Hat
Keeps warm in winter.

Statistics
Stat Bonus
Resistance
LV1
LV2
LV3
LV4
LV5
LV1
LV2
LV3
LV4
LV5
LV1
LV2
LV3
LV4
LV5
-
-
-
-
5%
-
-
-
5%
10%
-20%
-20%
-20%
-20%
-20%
-
-
-
-
-
-
5%
5%
10%
15%
10%
20%
30%
40%
50%
-
-
-
5%
10%
-
5%
5%
10%
15%
5%
10%
15%
20%
25%
-
-
-
-
-
5%
5%
5%
5%
5%

Forging Information
Level
Requirements
2
x 3
3
x 2
4
x 3
5
x 4
x 10
Trivia