The Gibson EB0 (spelled G*bson EB0 in-game for legal reasons) is a Wind-elemental Sword available for Matt in Epic Battle Fantasy 4.
Description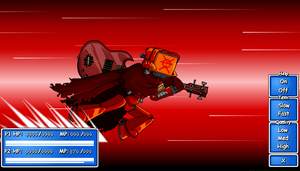 The G*bson EB0 is a round red guitar modelled after real-world 1961 Gibson EB-0 bass guitar. Before becoming one of available weapons in EBF4, it appeared in Brawl Royale and Epic Battle Fantasy, being wielded by Canti.
It is one of Matt's few swords that focus on improving his magical capabilities, increasing his Magic Attack by a significant amount, as well as boosting both his MP and Magic Defence, its Attack bonus is rather average among Matt's weapons. G*bson EB0 works best with magical Wind elemental skills such as Shockwave and Power Metal, as it greatly boosts their power. Even if Matt isn't the one who learned them, G*bson EB0 can randomly cast Power Metal between turns, enabling to make use of its effects regardless. Additionally, the guitar will provide its user with resistance against Thunder and Wind elements.
Epic Battle Fantasy 4
G*bson EB0 can be bought in the Greenwood Village Equipment Shop for 6,000 gold.
G*bson EB0
Boosts the power of Wind skills. Randomly casts Power Metal between turns.

Statistics
Stat Bonus
Resistance
LV1
LV2
LV3
LV4
LV5
LV1
LV2
LV3
LV4
LV5
LV1
LV2
LV3
LV4
LV5
-
-
-
-
-
-
5%
10%
15%
20%
10%
20%
30%
40%
50%
-
10%
20%
30%
40%
-
-
-
-
-
10%
20%
30%
40%
50%
15%
25%
40%
55%
70%
-
5%
10%
15%
20%
–
-
-
-
-
-
-
-
-
-
-
-
-
-
-
-
Element
50%

Forging Information
Level
Requirements
2
x 5
3
x 3
x 2
4
x 4
x 4
5
x 2
x 4