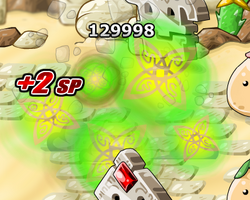 Gaia Bloom is an advanced Earth-elemental special skill available for Natalie and Anna in Epic Battle Fantasy 4.
Description
This section is incomplete. You can help Epic Battle Fantasy Wiki by adding required information to it.
To do: Visual description of the skill and suggestions on which player would handle it better.
Green Clay, Heasy and Rainbloom can also use Gaia Bloom.
Epic Battle Fantasy 4
Gaia Bloom
Advanced earth magic. May make the targets tired.
Target
Type
Element
Status Effect
Acc
Crit
RdF
Single
100%
100%
10%
10%
Level
Power
Status Chance
Status Strength
MP
AP Cost
1
60
60%
6x
8
150
2
80
80%
6x
12
300
3
100
100%
6x
16
600
Requirement(s)