Spoiler warning
Godcat is the main antagonist and the final boss of Epic Battle Fantasy 4. She is the patron goddess of cats and the creator of the entire planet and everything on it.
History
Origins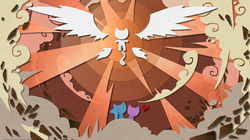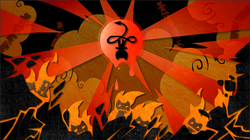 Godcat's true origins are lost to history; what is revealed of her past is known through a legend Anna tells to the party upon their arrival in Whitefall Town:
"In the beginning, there was a single, divine being. Her name was Godcat. But Godcat was lonely, so she created the heavens and the earth, and all the creatures who inhabit it. She then created cats in her own image, and gave them dominion over the land and over all other creatures."
...For thousands  of years, cats ruled the earth. They built great civilizations and had developed advanced technology. But they eventually became too friendly with humans...
"Godcat was jealous of this new alliance, of cats and humans. She destroyed all that the cats had built. Godcat's greatest creation was no longer worthy of her image, so she took away their arms and legs, and that's how they have remained to this day."
"Godcat then departed this world, and they say she left behind only these three jewels. For generations, humans have protected the jewels and kept them apart from each other, as they feared that Godcat would return if the jewels were ever brought together again."
Return to Earth
Seeking to bring the latter half of the legend to pass, a group of cats loyal to Godcat stole the sacred jewels of Greenwood Village, Whitefall Town, and Goldenbrick Resort, intending to resurrect/summon their goddess. The party (after an initial misunderstanding or two) pursued the cats, but were always too late to prevent the next theft; thus, their journey led them to the Temple of Godcat in hopes of preventing the completion of the ritual. Along the way, the party encountered Godcat herself, apparently manifesting in the wake of each jewel's theft - fortunately, the deity's physical form was still too unstable to sustain more than a few rounds of battle against the heroes.
After many battles and a long journey, the party finally reached the very summit of Godcat's temple, only to find that the cats had completed the ritual to summon their goddess. With the end of the world imminent, the heroes attacked Godcat, ignoring her claims of complete superiority and the fact that her weakened forms had proven unbeatable to them previously. Despite Godcat's incredible powers over light and darkness, and her manifestation of powerful battle bodies, the heroes persistently fought through everything the goddess threw at them.
However, Godcat's claims soon proved true; though the heroes defeated her avatars, they were only inconveniencing her at best. Nonetheless, the party continued to fight, and Godcat's initial dismissiveness turned to confusion and respect for their determination. Eventually, after the heroes defeated both of her avatars at once, the deity came to a decision: although she had intended humanity to be a mere slave race for cats, they had since grown into a species worthy of inheriting the planet she had created.
With this epiphany, Godcat immediately ended the battle, congratulating the heroes on their victory. Gathering her loyalists around her, she set off for the depths of space, intending to create a new planet for cats without making the same mistakes she did before. Before leaving, she offered NoLegs a place among the travellers, but he refused, not wanting to leave his friends.
Although she promised to keep an eye on the heroes and their planet, it is unclear if she will influence the storyline in the future games. However, she appears as a cameo limit break in a pre-alpha video of Epic Battle Fantasy 5.
Appearance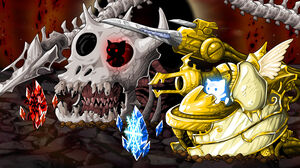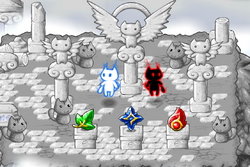 Despite the singular name, Godcat is actually a pair of entities; a "light" entity and a "dark" entity. The reason for that and the relationship between the two is unclear, but they appear to be separate halves of the true Godcat. It is possible that the "light" entity represents her love for cats, while the "dark" entity represents her hatred towards their reliance on humans.
Both aspects of Godcat appear as small floating cats similar to the ones encountered throughout the series, but with arms and legs. The Light Godcat has a white body with blue eyes and a blue aura, while the Dark Godcat has a black body with red eyes and a red aura.
Epic Battle Fantasy 4
Overview
For the Godcat's combat form that is fought and defeated normally, see The Creator and The Destroyer, for Godcat's light and dark aspect respectively.
Godcat in that form has tremendous amount of health and very high defences, immunity to all status effects, as well as ridiculously high evade, which renders Godcat basically indestructible. However, players should fear not, as she is not supposed to be destroyed - each time Godcat appears in that form she leaves few turns later, with the party only having to survive for the duration in order to "beat" her.
In each form, Godcat will deal tremendous damage to a single player. However, this will generally be of a specific element. By getting 100%+ resistance to Dark and Holy, one can lower Godcats' damage output to survivable amounts, until the battle switches to the next phase.
In general, Godcat is an incredibly powerful being and has apporpiately godly powers. She is the second near omnipotent being in the Epic Battle Fantasy series. (The first was Akron, who was sent to the world by Godcat). She also is part of a boss fight longer than that of any found in the previous games, with 4 forms available and several phases.
Additionally, while she is defeated several times in the final boss fight, she is not actually killed or injured in anyway more than a light breeze would. The only reason why she is "defeated" is because she decides to show mercy.
Statistics
Icon
Godcat
EBF4
The embodiment of creation. Is probably immortal. Uses powerful holy attacks.

Statistics
Base
Statistics
Exp
AP
SP
Gold
30000
12
24
12
24
12
24
0
0
0
0
Elemental
Resistance
-
-
-
-
-
-
-
-
-
-100%
Status
Resistance
100%
100%
100%
100%
100%
100%
100%
100%
100%
100%
100%
100%
Debuff
Resistance
-
-
-
-
-
-

Item Drop Rate
Icon
-
-
-
-
-
-
-
Name
-
-
-
-
-
-
-
Chance
-
-
-
-
-
-
-
Icon
Godcat
EBF4
The embodiment of destruction. Is probably immortal. Uses powerful dark attacks.

Statistics
Base
Statistics
Exp
AP
SP
Gold
30000
12
24
12
24
12
24
0
0
0
0
Elemental
Resistance
-
-
-
-
-
-
-
-
-100%
-
Status
Resistance
100%
100%
100%
100%
100%
100%
100%
100%
100%
100%
100%
100%
Debuff
Resistance
-
-
-
-
-
-

Item Drop Rate
Icon
-
-
-
-
-
-
-
Name
-
-
-
-
-
-
-
Chance
-
-
-
-
-
-
-
Attacks and Abilities
This section is incomplete. You can help Epic Battle Fantasy Wiki by adding required information to it.
To do: Attack list.
Strategy
See Godcat/Strategy
Bullet Heaven
In the spin-off game Bullet Heaven, Godcat appears as the last boss. Once again appearing as two separate entities, Light Godcat attacks with white bullets, whilst Dark Godcat uses black bullets. It is suggested that your traits are heavily upgraded before fighting her, and when trapped, use a bomb. Godcat's two forms share the same health bar, so you'll be able to damage her as long as at least one of the entities is being hit.
Trivia
In Epic Battle Fantasy 4, Godcat's cat forms have no proper death script, so if one of them were to be killed, the game would softlock, as shown in this video using hacks.
Much like the Valkyrie Tank and Akron before her, Godcat has a unique theme that plays during the final boss battle, titled "Fallen Blood".
The three Sacred Jewels are most likely a reference to the Triforce from the "Legend of Zelda" series. Both have the same color scheme and are required to summon a power with virtually no equal- however, whether for creation or destruction depends...
During the battle against her, Godcat states that she created Akron, apparently to be her harbinger of destruction.

This is contradictory to what Akron himself says, as he claimed to be as old as the world itself if not older. Then again, Akron was incredibly old and may have had his memories twisted so that he believes as such.

Epic Battle Fantasy 4 in-game Bestiary lists that Light and Dark Godcat have a 0% chance to drop Lance of Creation and Blade of Destruction, respectively. It's simply a joke.
In the Epic Battle Fantasy 4 Beta, you could not flee the final boss battle against her. This was later patched.