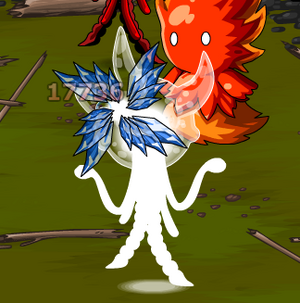 "Cool! Ice spells are generally effective against rocky or wet foes, so that'll be handy."
―Natalie, Epic Battle Fantasy 4

Ice is a basic Ice-elemental skill available for Natalie in Epic Battle Fantasy 3 and 4.
Description
Upon casting, a small circle of ice crystals appears over the target, dealing minor magical damage. Ice is quickly replaced by its stronger variant - Iceshard.
Equipping Ice-based weapons such as the Arctic Wind or the Razorwind will boost the power of Ice.
In EBF4, Ice Bit and Ice Idol can also use Ice.
Epic Battle Fantasy 3
Ice
Basic ice magic.
Target
Type
Element
Status Effect
Acc
Crit
RdF
Single
100%
--
100%
10%
10%
Level
Power
Status Chance
Status Strength
MP
AP Cost
1
33
--
--
4
15
2
44
--
--
6
30
3
55
--
--
8
60
Epic Battle Fantasy 4
Ice is one of Natalie's default skills when she joins the party in Ashwood Forest.
Ice
Basic ice magic.
Target
Type
Element
Status Effect
Acc
Crit
RdF
Single
100%
--
100%
10%
10%
Level
Power
Status Chance
Status Strength
MP
AP Cost
1
30
--
--
4
N/A
2
40
--
--
5
15
3
50
--
--
6
25