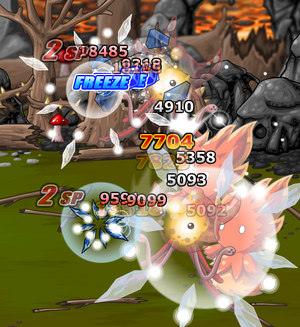 Icestorm is an expert Ice-elemental skill available for Natalie in Epic Battle Fantasy 3 and 4.
Description
(insert description here)
This section is incomplete. You can help Epic Battle Fantasy Wiki by adding required information to it.
To do: Description
Equipping Ice-based weapons such as the Arctic Wind or the Razorwind will boost the power of Icestorm.
Enemies that can use this skill:
Epic Battle Fantasy 3
Icestorm
Expert ice magic. Targets all foes.
Target
Type
Element
Status Effect
Acc
Crit
RdF
All
100%
--
100%
10%
10%
Level
Power
Status Chance
Status Strength
MP
AP Cost
1
55/3
--
--
16
1500
2
70/3
--
--
24
3000
3
88/3
--
--
32
6000
Requirement(s)

Epic Battle Fantasy 4
Icestorm
Expert ice magic. Targets all foes. May freeze targets. Hits 3 times.
Target
Type
Element
Status Effect
Acc
Crit
RdF
All
100%
100%
10%
10%
Level
Power
Status Chance
Status Strength
MP
AP Cost
1
49.5/3
1%
2x
16
1500
2
64.35/3
3%
2x
24
3000
3
79.2/3
4%
2x
32
6000
Requirement(s)