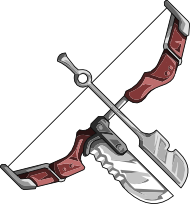 The Iron Tooth is a non-elemental bow available for Anna in Epic Battle Fantasy 4.
Description
The Iron Tooth...(insert visual description here)
This bow primarily focuses on Anna's physical strength, greatly increasing her Attack and providing a substantial boost in Defence. However that comes for the cost of a slight decrease of Anna's Accuracy and Evade, as well as a very low Magic Attack bonus. Iron Tooth may stagger the target when used with weapon-elemental skills, making a next hit against the same target a sure critical hit, it also protects Anna from being staggered herself. Additionally, it may counter attacks with Combo Shot.
Epic Battle Fantasy 4
The Iron Tooth can be bought in the Goldenbrick Resort Equipment Shop for 300,000 gold.
Iron Tooth
May stagger targets. Counter attacks with Combo Shot.
Statistics
Stat Bonus
Resistance
LV1
LV2
LV3
LV4
LV5
LV1
LV2
LV3
LV4
LV5
LV1
LV2
LV3
LV4
LV5
--
--
--
--
--
--
--
--
--
--
20%
40%
60%
80%
100%
20%
35%
50%
65%
80%
--
5%
10%
15%
20%
--
--
--
--
--
--
--
5%
10%
15%
20%
--
--
--
--
--
--
--
--
--
--
--
-10%
-10%
-10%
-10%
-10%
-10%
-10%
-10%
-10%
-10%
Element
----
Spells & Statuses
Power
Chance Modifier
Attack Status
Auto Skill
--
--
10%
15%
20%
25%
30%
Bonus Skill
--
--
--
--
--
--
--
Auto Status
--
--
Forging Information
Lvl
Requirements
Lvl
Requirements
2

x 3
--
--
3

x 3

x 3
--
4

x 20

x 20

x 20
5

x 1

x 30
--