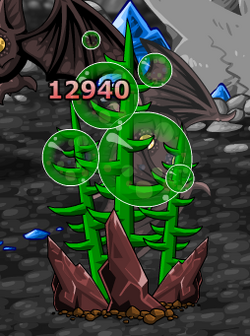 Ivy is a basic Poison-elemental skill available for Anna in Epic Battle Fantasy 4, and to Natalie in Epic Battle Fantasy 3 as a random summon from the Green Dress armor. It is one of the few skills whose type varies between games.
Description
Three spiky vines of ivy rise from the ground, impaling the enemy before receding into the ground.
In EBF4, it is the weaker version of Vines at both damage and inflicting the Poison status.
Enemies that can use this skill:
Epic Battle Fantasy 3
Statistics
Name
Target
Power
Type
Element
Status Effect
Acc
Crit
RdF
Ivy
Single
30
80%
100%
2x
100%
10%
10%
Epic Battle Fantasy 4
Ivy
Basic poison attack. May poison targets.
Target
Type
Element
Status Effect
Acc
Crit
RdF
Single
50%
100%
10%
10%
Level
Power
Status Chance
Status Strength
MP
AP Cost
1
30
50%
1x
5
20
2
40
75%
1x
7
40
3
50
100%
1x
9
80