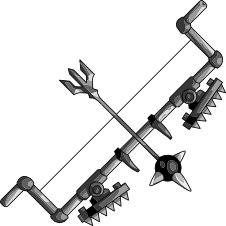 The Juggernaut is a Bomb-elemental bow available for Anna in Epic Battle Fantasy 4.
Description
The Juggernaut is an angular bow made of metal piping with two spiky plates attached upfront. The arrows have a black ball with silver spikes for a head, while their tail resembles a tiny trident, with three spikes instead of feathers.
Epic Battle Fantasy 4
Found in the Waste Disposal Plant, inside the room containing The Glitch.
Juggernaut
Boosts the power of Bomb skills. May cast Big Blast with certain skills.

Statistics
Stat Bonus
Resistance
LV1
LV2
LV3
LV4
LV5
LV1
LV2
LV3
LV4
LV5
LV1
LV2
LV3
LV4
LV5
-
-
-
-
-
-
-
-
-
-
-30%
-30%
-30%
-30%
-30%
20%
30%
40%
55%
70%
5%
10%
15%
20%
25%
10%
20%
30%
40%
50%
5%
10%
15%
20%
25%
5%
10%
15%
20%
25%
–
-
-
-
-
-
-
-
-
-
-
-20%
-20%
-20%
-20%
-20%
Element
50%

Forging Information
Level
Requirements
2
x 3
3
x 8
x 2
4
x 18
x 18
x 18
5
x 1
x 30