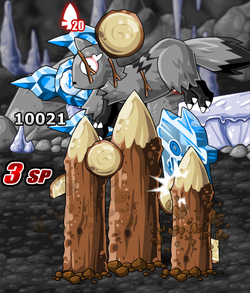 Lumber is an advanced Earth-elemental skill available for Anna in Epic Battle Fantasy 4.
Description
Lumber causes several spiked logs to burst out of the ground beneath a single foe, dealing high physical damage with a chance to stagger them.
Armored Oak, Big Green Bush and Mighty Oak can also use Lumber.
Epic Battle Fantasy 4
Lumber
Advanced earth attack. May stagger targets. Hits 3 times.
Target
Type
Element
Status Effect
Acc
Crit
RdF
Single
50%
100%
20%
10%
Level
Power
Status Chance
Status Strength
MP
AP Cost
1
100
16%
--
15
1200
2
150
19%
--
20
2500
3
220
23%
--
25
5000
Requirement(s)