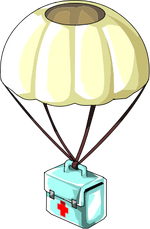 Medipack is a healing skill available for Lance in Epic Battle Fantasy 3 and 4.
Description
When cast, a first aid kit on a parachute floats down to an ally, healing them and removing all status ailments they have.
Army Helmet and Camo Skirt may randomly cast Medipack between turns. Though, keep in mind that the target is chosen at random and wounded allies are not prioritized over those with full HP.
Epic Battle Fantasy 3
Medipack
Element
Type
Advanced healing magic. Heals one ally. Also heals status defects.
----

| Level | Power | MP | AP Cost |
| --- | --- | --- | --- |
| 1 | 5 | 6 | 50 |
| 2 | 10 | 8 | 100 |
| 3 | 20 | 10 | 250 |
| 4 | 40 | 12 | 600 |
| 5 | 60 | 15 | 2000 |
Epic Battle Fantasy 4
Medipack
Element
Type
Heals one ally and removes any status problems they have.
----

| Level | Power | MP | AP Cost |
| --- | --- | --- | --- |
| 1 | 20 | 6 | 50 |
| 2 | 30 | 8 | 100 |
| 3 | 40 | 10 | 250 |
| 4 | 50 | 13 | 600 |
| 5 | 60 | 16 | 2000 |