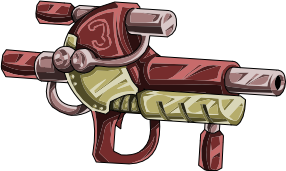 The Mini Bomber is a Bomb-elemental gun available for Lance in Epic Battle Fantasy 4.
Description
(insert visual description here)
The Mini Bomber gives its user a moderate boost in Attack, Magic Attack and Accuracy. It also strengthen the user's Bomb skills, and can cast Bomb-elemental special skills between turn and with certain attacks.
Epic Battle Fantasy 4
The Mini Bomber is found in a chest at the Waste Disposal Plant.
Mini Bomber
May stagger targers. Boosts the power of Bomb skills. May cast Blast with certain skills. Randomly casts Mini Missiles between turns.
Statistics
Stat Bonus
Resistance
LV1
LV2
LV3
LV4
LV5
LV1
LV2
LV3
LV4
LV5
LV1
LV2
LV3
LV4
LV5
--
--
--
--
--
--
5%
5%
10%
10%
10%
20%
30%
40%
50%
10%
20%
30%
40%
50%
--
--
--
--
--
20%
40%
60%
80%
100%
10%
20%
30%
40%
50%
--
--
--
--
--
--
--
--
--
--
--
5%
10%
15%
20%
25%
--
--
--
--
--
Element
50%
Spells & Statuses
Power
Chance Modifier
Attack Status
Auto Skill
--
--
20%
25%
25%
30%
30%
Bonus Skill
(50%)
--
--
--
--
--
--
Auto Status
--
--
Forging Information
Lvl
Requirements
Lvl
Requirements
2

x 1
--
--
3

x 2

x 3
--
4

x 5

x 5

x 1
5

x 1

x 5
--