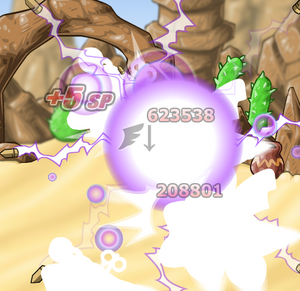 "And Man said "Let there be light", and there was light. And it was awesome."
―Lance, Epic Battle Fantasy 4

Plasma Field, previously known as Plasmacross is an expert Thunder-elemental skill available for Lance in Epic Battle Fantasy 3 and 4.
Description
This section is incomplete. You can help Epic Battle Fantasy Wiki by adding required information to it.
To do: Visual description.
Plasma Field deals high Thunder-elemental damage to one unit and a third to the rest. Unlike most other Thunder-elemental skills, it can't Stun, but can debuff Evade. Note that against a wave with many foes, its previous tier, Plasma Wave, might end up dealing more damage in total.
In EBF4, Dark Lance, Gunslinger and Praetorian can also use Plasma Field.
Epic Battle Fantasy 3
Plasmacross can only reduce evade on level 3.
Plasmacross
Expert thunder magic. Damage centered on one foe, with the rest recieving 1/3. Level 3: May lower target's evade.
Target
Type
Element
Status Effect
Acc
Crit
RdF
Centered
75%
110%
10%
10%
Level
Power
Status Chance
Status Strength
MP
AP Cost
1
80/2
--
--
20
1500
2
110/2
--
--
25
3000
3
140/2
40%
20%
10%
30
6000
Requirement(s)

Note: The 2 Status Strength numbers denote Evade debuff strength to the main and side target, respectively.
Epic Battle Fantasy 4
The skill received a new name, and can debuff evade starting right from the first level.
Plasma Field
Expert thunder magic. Targets all foes, but damage is centered on one. May debuff targets' evade.
Target
Type
Element
Status Effect
Acc
Crit
RdF
Centered
75%
130%
10%
10%
Level
Power
Status Chance
Status Strength
MP
AP Cost
1
100
60%
30%
20
1500
2
135
70%
30%
26
3000
3
170
80%
30%
32
6000
Requirement(s)