Power Metal
Talk

3
521pages on
this wiki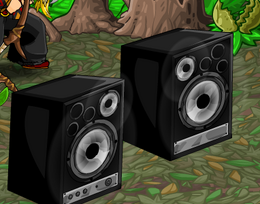 Power Metal, also Death Metal in Epic Battle Fantasy 4, is one of the few wind spells in the Epic Battle Fantasy series. It summons two large speakers, emitting music in a powerful bass. It damages all enemies with wind elemental damage and slightly heals all players's HP.
In Epic Battle Fantasy 3, you can get this skill by completing a quest given to you by Calum, a NPC in the Town. It can be learned by Matt or Lance. This skill returns in EBF4 as a shared Skill for Matt and Lance. It remains mostly unchanged from the previous games.
Epic Battle Fantasy 4
The attack also receives a variant in EBF4. This time, it is a limit break known as Death Metal which deals out much more damage than the original. You can get the skill from the same NPC (Calum) near to the equipment shop in Whitefall Town.
Tactics
If you give the skill to Matt, it will become one of his only offensive magic skills, as well as his only skill that heals the other players.
On the other hand, if you give the skill to Lance, it will be great for both offensive and defensive purpose, as Lance has higher magic attack than Matt does. The damage will be dramatically increased if Lance equips Vortex Cannon along with Mage Hat.
Power Metal's limit break variant- Death Metal is extremely useful against Rafflesia.
Trivia
The song playing from the speakers is Though the Fire and Flames by DragonForce in EBF1, EBF2 and EBF3. In EBF4, the song was changed to Winter Night's Journey (Through The Storm) by LEAF XCEED.
In EBF3, Matt says : 'through the fire and flames we carry on!' obviously referring to the song being played.
In EBF4, Matt states that he can't hear himself think the first time this is used.