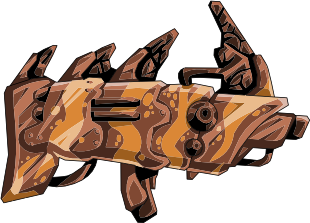 The Quake Maker is an Earth-elemental gun available for Lance in Epic Battle Fantasy 4.
Description
(insert description here)
Epic Battle Fantasy 4
Found at Graybone Cemetery, in one of the two chests that is blocked by a Copper Block.
Quake Maker
May debuff targets' attack. Boosts the power of Earth skills. May cast Sand Dune with certain skills.
Statistics
Stat Bonus
Resistance
LV1
LV2
LV3
LV4
LV5
LV1
LV2
LV3
LV4
LV5
LV1
LV2
LV3
LV4
LV5
10%
10%
15%
15%
20%
--
--
--
--
--
10%
20%
30%
40%
50%
20%
30%
40%
50%
60%
--
5%
5%
10%
10%
10%
20%
30%
40%
50%
20%
30%
40%
50%
60%
--
5%
5%
10%
10%
20%
40%
60%
80%
100%
--
--
--
--
--
--
--
--
--
--
Element
50%
Spells & Statuses
Power
Chance Modifier
Attack Status
Auto Skill
--
--
30%
40%
50%
60%
70%
Bonus Skill
(70%)
--
20%
25%
30%
35%
40%
Auto Status
--
--
Forging Information
Lvl
Requirements
Lvl
Requirements
2

x 5
--
--
3

x 15

x 5
--
4

x 20

x 5
--
5

x 1

x 10
--