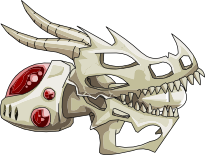 The Rapturer is a non-elemental gun available for Lance's in Epic Battle Fantasy 3. 
Description
The Rapturer is a relatively small gun, with a frame made out of the severed head of a Zombie Hydra. The actual gun mechanism is located behind the hydra's head, where the user rests his shoulder, and the barrel is located at the head's mouth.
This weapon specializes in supporting the team by reducing the enemies' offensive potential. It gives Lance a medium boost in both Attack and Magic Attack, and can reduce Attack and Magic Attack with its special abilities.
Epic Battle Fantasy 3
The Rapturer can be found in the Rock Lake.
Rapturer
Lowers foe's magic attack.
Unleash: Attack which lowers the target's attack.

Statistics
Stat Bonus
Resistance
LV1
LV2
LV3
LV4
LV5
LV1
LV2
LV3
LV4
LV5
LV1
LV2
LV3
LV4
LV5
-
-
-
-
-
-
-
-
-
-
20%
40%
60%
80%
100%
10%
20%
30%
40%
50%
-
-
-
-
-
–
-
-
-
-
-
10%
20%
30%
40%
50%
-
-
-
-
-
–
-
-
-
-
-
-
-
-
-
-
-
-
-
-
-
Element
----

Forging Information
Level
Requirements
2
x 2
3
x 4
4
x 8
5
x 10
x 10
x 10