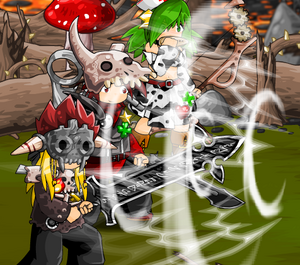 "Now we're all quick like ninjas!"
―Anna, Epic Battle Fantasy 4

Reflex is a stat-buffing skill available for Matt in Epic Battle Fantasy 3 and for Anna in Epic Battle Fantasy 4.
Description
When cast, a gust of white wind appears around the party, buffing their Evade for a while, thus increasing their chance of successfully dodging incoming attacks.
Blue Clay can also use Reflex.
Epic Battle Fantasy 3
Reflex is Matt's unique skill.
Reflex
Buffs the party's evade.
Target
Type
Element
Status Effect
Acc
Crit
RdF
Allies
--
----
--
--
--
Level
Power
Status Chance
Status Strength
MP
AP Cost
1
--
--
20%
10
1250
2
--
--
25%
15
2500
3
--
--
30%
20
5000
Requirement(s)
(all)
Note: The in-game Power numbers are merely used to visualize Evade buff strength; this skill does not heal or damage the team in any way.
Epic Battle Fantasy 4
Reflex became an unique skill available for Anna, instead of Matt.
Reflex
Buffs the evade of all allies.
Target
Type
Element
Status Effect
Acc
Crit
RdF
Allies
--
----
--
--
--
Level
Power
Status Chance
Status Strength
MP
AP Cost
1
--
--
20%
10
650
2
--
--
25%
16
1300
3
--
--
30%
24
2600
4
--
--
35%
32
5200
Requirement(s)
(all)