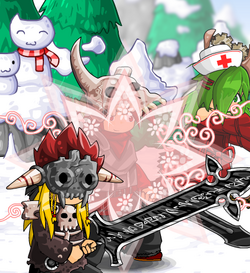 Refresh is an advanced healing skill available for Anna in Epic Battle Fantasy 4.
Description
When Refresh and its target is chosen, Anna bends down and sticks her bow into the ground. The selected member will have a pink floral design appear around them and heal them, while blessing them.
Refresh is the advanced version of Renew.
Heasy can also use Refresh.
Epic Battle Fantasy 4
Refresh
Advanced healing magic. Heals an ally. Blesses the target.
Target
Type
Element
Status Effect
Acc
Crit
RdF
Ally
----
--
--
10%
Level
Power
Status Chance
Status Strength
MP
AP Cost
1
40
--
3x
12
500
2
50
--
3x
15
1000
3
65
--
3x
18
2000
4
80
--
3x
21
5000
Requirement(s)