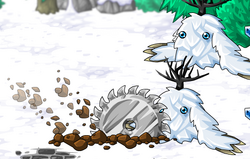 Sawblade is an advanced non-elemental special skill available for Matt, Lance, and Anna in Epic Battle Fantasy 4.
Description
Upon casting, a sawblade falls onto the battlefield and then rolls through the ground, slashing the target, dealing moderate physical damage with a chance to instantly kill the target. Countrary to its description, it doesn't ignore defence buffs — it was never programmed to do that.
It has an upgraded version called Triple Sawblades.
Chainsaw Blade and Chainsaw Gun may cast Sawblade with certain skills.
Epic Battle Fantasy 4
Sawblade
Advanced non-elemental attack. Ignores defence buffs[incorrect]. May kill targets instantly.
Target
Type
Element
Status Effect
Acc
Crit
RdF
Single
----
100%
10%
10%
Level
Power
Status Chance
Status Strength
MP
AP Cost
1
40
10%
--
6
100
2
60
15%
--
9
200
3
80
20%
--
12
400
4
100
25%
--
16
800