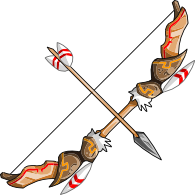 The Sky Feather is a Wind-elemental bow available for Anna in Epic Battle Fantasy 4.
Description
The Sky Feather appears to be made primarily of carved wood, arranged in three layers. The base layer is a simple bow of dark brown wood, with a second layer of light brown wood that covers all but the tips of the first. The ends of the second layer flare out slightly and have thin red lines along their edges. Two pieces of brown wood flank the center of the bow, each decorated with orange lines, white fur, and a white feather with red stripes.
The Sky Feather's arrows are light brown, with a metal head and two white feathers with red stripes on the tail.
(insert properties' description there)
Epic Battle Fantasy 4
The player begins the game with the Sky Feather in their inventory.
Sky Feather
May syphon targets. Drains MP from targets with certain skills. Boosts the power of Wind skills. May cast Gust with certain skills.

Statistics
Stat Bonus
Resistance
LV1
LV2
LV3
LV4
LV5
LV1
LV2
LV3
LV4
LV5
LV1
LV2
LV3
LV4
LV5
-
-
-
-
-
5%
10%
15%
20%
25%
20%
40%
60%
80%
100%
-
10%
20%
30%
40%
-
-
-
-
-
20%
40%
60%
80%
100%
-
10%
20%
30%
40%
-
-
-
-
-
20%
40%
60%
80%
100%
-
5%
5%
10%
10%
-
5%
5%
10%
10%
Element
50%

Forging Information
Level
Requirements
2
x 1
x 2
3
x 6
x 6
4
x 5
x 10
x 10
5
x 18
x 15
x 15