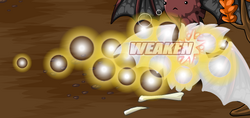 Soul Arrow is a Holy-elemental skill available for Anna in Epic Battle Fantasy 4.
Description
This section is incomplete. You can help Epic Battle Fantasy Wiki by adding required information to it.
To do: Visual description
Soul Arrow deals Holy-elemental damage to an enemy, with notably high chance to inflict Weaken onto them. It will also replace the user's stat (de)buffs with the target's, regardless of the new stat changes being positive or negative, stronger or weaker than the original. This feature is largely considered impractical, as normal gameplay consists of the players buffing themselves and debuffing the foes, leading to extremely disadvantageous trades that harm Anna more than the enemies.
Epic Battle Fantasy 4
Soul Arrow
Copies the buffs of the target to the player. May weaken targets.
Target
Type
Element
Status Effect
Acc
Crit
RdF
Single
80%
100%
10%
10%
Level
Power
Status Chance
Status Strength
MP
AP Cost
1
50
40%
4x
8
500
2
80
60%
4x
12
1000
3
120
80%
4x
16
1500
4
180
100%
4x
22
3000
Requirement(s)
(all)