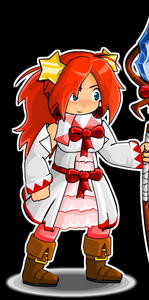 The Star Hairclip is a female headgear available in Epic Battle Fantasy 3. It currently does not have any armor counterparts.
Description
The Star Hairclip, as the name suggests, is a golden star-shaped hairclip. Contrary to its name, it appears to be a pair of star clips.
It is a fairly balanced hat that increases Natalie's Magic Attack, MP, Defence, Magic Defence, Evade, and Accuracy by small amounts. It also provides resistance against Magic Attack and Magic Defence debuffs - becoming a complete immunity by Level 5. Additionally, the Star Hairclip boosts the power of Natalie's Lucky Star and Star Shower skills.
Epic Battle Fantasy 3
Star Hairclip
Boosts the power of Lucky Star and Star Shower.

Statistics
Stat Bonus
Resistance
LV1
LV2
LV3
LV4
LV5
LV1
LV2
LV3
LV4
LV5
LV1
LV2
LV3
LV4
LV5
-
-
-
-
-
-
5%
5%
10%
10%
20%
40%
60%
80%
100%
-
-
-
-
-
-
-
-
5%
10%
20%
40%
60%
80%
100%
-
5%
5%
10%
10%
-
5%
5%
10%
10%
–
-
-
-
-
-
-
-
-
-
5%
-
-
-
-
5%

Forging Information
Level
Requirements
2
x 1
3
x 3
4
x 12
5
x 1
x 1
x 1