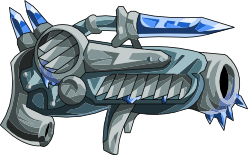 The Sub Zero is an ice-elemental gun available for Lance in Epic Battle Fantasy 4.
Description
The Sub Zero is a large grey cannon with what appear to be vents or spikes on its base and along the sides of its barrel. Several small ice crystals line the back of the gun and edge of the barrel, and a larger spike of ice adorns the top of the gun like a bayonet or laser sight.
The Sub Zero increases the power of ice skills as well as a boost in both Attack and Magic Attack. This allows Lance to either deal Ice-based damage with his gunblade skills, or ultilize magical Ice-elemental skills such as Hyper Beam or Blizzard.
Epic Battle Fantasy 4
Sub Zero
May freeze targets. Boosts the power of Ice skills. May cast Deep Freeze with certain skills.

Statistics
Stat Bonus
Resistance
LV1
LV2
LV3
LV4
LV5
LV1
LV2
LV3
LV4
LV5
LV1
LV2
LV3
LV4
LV5
-
-
-
-
-
10%
10%
15%
15%
20%
10%
20%
30%
40%
50%
10%
20%
30%
45%
60%
-
-
-
-
-
10%
20%
30%
40%
50%
10%
20%
30%
45%
60%
10%
10%
15%
15%
20%
20%
40%
60%
80%
100%
-
-
-
-
-
-
-
-
-
-
Element
50%

Forging Information
Level
Requirements
2
x 3
x 1
3
x 2
x 1
4
x 6
x 6
5
x 1