Swords are bladed weapons used in the Epic Battle Fantasy series. Their most prominent user is Matt, who is usually seen carrying a large array of swords with him wherever he goes. As with the weapons of the other playable characters, Matt's swords come in all shapes and sizes, with various effects on his stats, abilities, and resistances.
Interestingly, some of Matt's weapons are not swords (such as the Gaia Axe or the Razorback guitar), but are classified as swords for the sake of simplicity.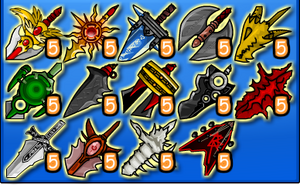 Non-sword weapons used by Matt
Not every Matt's weapon is actually a sword but all of them still belong to this category, this is most likely for the sake of simplicity, or as a joke for the fact that Matt is not the brightest member of the team and just can't see a difference between different melee weapons types.
Other notable sword users