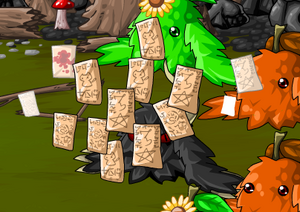 Talisman Seal is a Holy-elemental special skill available for Matt, Natalie, and Anna in Epic Battle Fantasy 4.
Description
This section is incomplete. You can help Epic Battle Fantasy Wiki by adding required information to it.
To do: Animation description, recommended player to use the skill, and notable special effects, if any.
Sacred Rune can also use Talisman Seal.
Epic Battle Fantasy 4
Talisman Seal
Syphons the target and debuffs their magic attack.
Target
Type
Element
Status Effect
Acc
Crit
RdF
Single
50%


100%
10%
10%
Level
Power
Status Chance
Status Strength
MP
AP Cost
1
30
80%
60%
2x
20%
15
500
2
40
90%
75%
2x
30%
18
1500
3
50
100%
90%
3x
40%
22
3000
4
60
110%
100%
3x
50%
26
6000