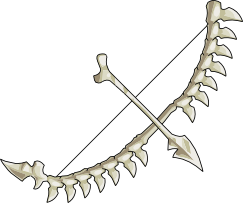 The Departed is a non-elemental bow available for Anna in Epic Battle Fantasy 4.
Description
The Departed is entirely composed of bones, possibly out of a tail or a spine. The outer part of the bow has an array of spikes, as well as a larger variant of it near the bottom. The arrows are also thinner bones with a sharp tip that acts as the arrowhead.
This bony bow provides the user with a slightly lower boost in both Attack and Magic Attack than most other bows. It may reduce target's Magic Defence, and also has a chance to Doom the target with certain skill, causing the target to instantly die in 3 turns regardless of remaining health.
Epic Battle Fantasy 4
Found at the Graybone Cemetery inside the left tomb.
The Departed
May doom targets. May debuff targets' magic defence. Counter attacks with Normal Attack. May cast Bones with certain skills.
Statistics
Stat Bonus
Resistance
LV1
LV2
LV3
LV4
LV5
LV1
LV2
LV3
LV4
LV5
LV1
LV2
LV3
LV4
LV5
--
--
--
--
--
--
--
--
--
--
20%
40%
60%
80%
100%
--
10%
20%
30%
40%
--
--
--
--
--
--
--
--
--
--
--
--
10%
20%
30%
40%
--
--
--
--
--
--
--
--
--
--
--
--
--
--
--
--
--
--
--
--
--
Element
----
Spells & Statuses
Power
Chance Modifier
Attack Status
Auto Skill
--
--


30%
30%
35%
40%
40%
50%
45%
60%
50%
70%
Bonus Skill
(50%)
--
3x
20%
3x
20%
3x
25%
3x
25%
3x
30%
Auto Status
--
--
Forging Information
Lvl
Requirements
Lvl
Requirements
2

x 1
--
--
3

x 3
--
--
4

x 4

x 3
--
5

x 5

x 15

x 15