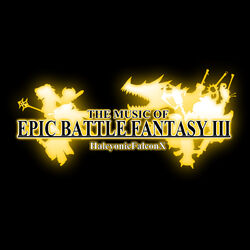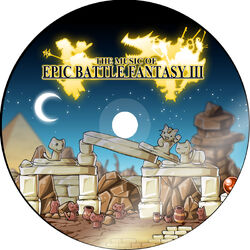 The Music of Epic Battle Fantasy III is an album released on August 9, 2010. It contains entire soundtrack of Epic Battle Fantasy 3, which was composed by Phyrnna. It features 17 tracks from the game, and the physical version also features an artwork created by Matt Roszak as disc's cover art.
It is available on Phyrnna's Bandcamp page both in digital version for the price of $8 USD and physical version for $10 USD. $1 of every sale goes straight towards the Ann & Robert H. Lurie Children's Hospital of Chicago.
Tracklist
Total length - 39:43
Ad blocker interference detected!
Wikia is a free-to-use site that makes money from advertising. We have a modified experience for viewers using ad blockers

Wikia is not accessible if you've made further modifications. Remove the custom ad blocker rule(s) and the page will load as expected.