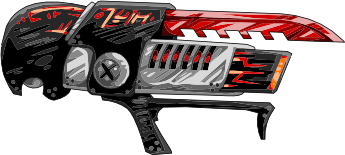 The Phantom is a Dark-elemental gun available for Lance in Epic Battle Fantasy 4. It is exclusive to the Steam release of the game and the Premium Pack.
Description
The Phantom is a cannon with a massive rectangular barrel constantly glowing bright red. Mysterious patterns decorate the weapon's back and barrel, also glowing with a bright red color. This gun, similar to the Deep Blue, has a giant blade on top of the barrel, but it is blood red in color.
This weapon is similar to the Anarchy in that it provides the user with a massive Attack boost, at the cost of a very high debuff in Defence and Magic Defence. Unlike the Anarchy, The Phantom also boosts Lance's Magic Attack and Evade.
Epic Battle Fantasy 4
The Phantom is in a chest in a puzzle area in Battle Mountain, after the Praetorian MKII.
The Phantom
May dispel targets. Boosts the power of Dark skills. May cast Antimatter with certain skills.

Statistics
Stat Bonus
Resistance
LV1
LV2
LV3
LV4
LV5
LV1
LV2
LV3
LV4
LV5
LV1
LV2
LV3
LV4
LV5
-
-
-
-
-
-
-
-
-
-
20%
40%
60%
80%
100%
40%
55%
70%
90%
120%
–50%
–50%
–50%
–50%
–50%
20%
40%
60%
80%
100%
-
10%
20%
30%
40%
–50%
–50%
–50%
–50%
–50%
–
-
-
-
-
-
-
-
-
-
-
-
-
5%
5%
10%
Element
50%

Forging Information
Level
Requirements
2
x 2
3
x 2
x 3
4
x 5
x 1
x 3
5
x 1
x 12