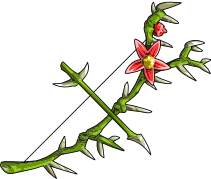 The Thorn Bow is a Poison-elemental bow available for Anna in Epic Battle Fantasy 4. It is exclusive to the Steam release of the game and the Premium Pack.
Description
True to its name, the Thorn Bow is entirely composed of prickly thorns. A bloomed red flower and flower bud reside at the top of the weapon, along with another thorn growing in a distinctive direction.
Epic Battle Fantasy 4
Found on the Battle Mountain, specifically in the bottom-right chest on the Rainbow Rafflesia screen, accessible after beating the eight-wave foe rush with foes from Lankyroot Jungle. The Stepladder is required to get this far.
Thorn Bow
Boosts the power of Poison skills. May cast Thorny Vines with certain skills. Randomly casts Thorny Vines between turns.

Statistics
Stat Bonus
Resistance
LV1
LV2
LV3
LV4
LV5
LV1
LV2
LV3
LV4
LV5
LV1
LV2
LV3
LV4
LV5
-
-
-
-
-
-
-
-
-
-
10%
20%
30%
40%
50%
20%
30%
40%
55%
70%
-
-
-
-
-
20%
40%
60%
80%
100%
-
5%
10%
15%
20%
-
-
-
-
-
–
-
-
-
-
-
-
-
-
-
-
-
-
-
-
-
Element
50%

Forging Information
Level
Requirements
2
x 1
3
x 5
4
x 3
x 3
x 4
5
x 20
x 16
x 18