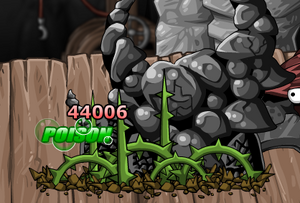 Vines are an advanced Poison-elemental skill available for Anna in Epic Battle Fantasy 4, and to Natalie in Epic Battle Fantasy 3 as a bonus spell from the Nirvana staff. It is one of the few skills whose type varies between games.
This section is incomplete. You can help Epic Battle Fantasy Wiki by adding required information to it.
To do: All about its EBF1 appearance. Physical damage this time around.
Description
When cast, a cluster of spiky vines emerge from under the target, damaging and Poisoning them.
In EBF4, it is the upgraded version of Ivy.
Enemies that can use this skill:
Epic Battle Fantasy 3
Statistics
Name
Target
Power
Type
Element
Status Effect
Acc
Crit
RdF
Vines
Single
Variable
60%
60%
2x
90%
10%
10%
Notes: Power is 40 when used by foes, or else 100% of the standard on-hit bonus spell formula.
Epic Battle Fantasy 4
Vines
Advanced poison attack. May poison targets.
Target
Type
Element
Status Effect
Acc
Crit
RdF
Single
50%
100%
10%
10%
Level
Power
Status Chance
Status Strength
MP
AP Cost
1
70
50%
2x
10
300
2
120
75%
3x
14
900
3
180
100%
4x
18
3300
Requirement(s)